We will continue to use Universal in the future due to their competitive rates and high level of service excellence. Universal and their team is a pleasure to work with and I would not hesitate to recommend them for anyone looking for any Engineering or Facility Maintenance Service. Kind Regards,
Ed Snook -Plant Manager – Roseland Manufacturing- B&G Foods, North America, Inc.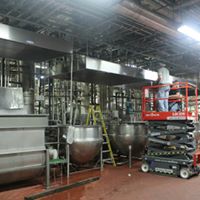 What Clients Have to Say
"NCC Automated Systems, Inc. has enjoyed a great working relationship with Universal since 2001. Universal has completed projects in a timely manner, and has always demonstrated excellent professional conduct. This commitment to excellence that has driven Universal employee has benefited our company immensely, and we look foreword to continuing our relationship with Universal in the coming years."
David Fischili -Project Engineer- NCC Automated Systems, Inc.
Just a quick note of appreciation for the all the work and support your company has provided throughout the years. Working with Universal is always a very pleasurable experience, your level of expertise; consistency and professionalism are key contributions to the success of our extensive project list. Regards,
Rene A. Carmenaty -Sr. Corporate Engineer- Kraft Foods
As Plant Engineering Manager for several major manufacturing companies over the years I have had numerous opportunities to work with Universal Industrial Services, Inc. on quite a few projects and find them to be a very reliable company in that you receive all they promise to accomplish.
I very rarely received a change order for additional charges; most often any reasonable additional costs were absorbed in the original project, which were always completed on time. One of Universal's greatest assets is their ability to provide experts in any field required whether building, structural, mechanical or electrical, whatever the job they have the expertise to successfully accomplish the work.
Universal has become the company I call first for any project I need and I'm confident it will be a success, completed on time and within budget.
Sincerely,
George De Leone -
Plant Engineering Manager- Goya Foods, Inc.