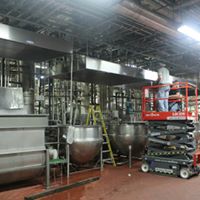 MILLWRIGHT AND RIGGING SERVICES
Our Millwright and Rigging Services are Universal.
Specializing in local, out-of-state, or overseas turnkey plant projects, Universal sets the standard for response, craftsmanship, safety, and performance with expert performance of millwrighting, rigging and related specialties. We handle all types of machinery and process equipment, from single pieces to entire plants, as a contractor or a time-and-materials service provider. See us for plant relocation, building erection, troubleshooting, industrial repairs, and the many mechanical services shown below – exactly the services your company needs.
Millwright
• Alignment work
• Tramming
• Shimming
• Couplings
• Modifications
• Welding
• Drilling
• Relocation
• Bearings
• Shafts
• Maintenance, routine or preventive
• Drives
• Gearboxes
• Speed reducers
• Troubleshooting
• Roll replacements
• Gears, bushings, roller bearings, and seals
• General repairs and replacements
Erection & Construction
• Steel buildings
• Prefabricated steel buildings
• Platforms and equipment supports and additions
• Water towers
• Bag houses
• Structural steel
• Bridge cranes
• Monorails
• Jib cranes
• Paint booths
• Modular offices
• Conveyor engineering and installation
• Equipment installation
Repairs
• Gearbox
• Sheaves
• Pulleys
• Bushings
• Sleeves
• Conveyors
• Conveyor belts
• Crushers
*Welding
• Platforms
• Structural welding
• Cast iron welding
• Cast steel welding
• General plant welding
• Repairs
• Overlays
• Alloys
• Buildups
• Air arc
*All welders are AWS and ASME certified
• PVC pipe
• CPVC pipe
• ABS
• Polypropylene pipe
• Copper pipe
• Stainless steel pipe
• Carbon steel pipe
• Alloy pipe
• Threaded or solvent joined
• Plastic, fusion, socket, butt, or braze welding
• Hoke™
• Swagelock™
• Gyrolock™ Parker
• A-Lock™
• X-ray
• Welded Piping
• NDT
• Pipeline inspection plant services
• Inspector-proven ASME and AWS welding
• Process piping
• Utility piping
• Installation/repair
• Natural gas piping
• Propane piping
• Pharmaceutical piping
• Chemical piping
• Transfer lines
• Hydraulic piping
• Steam piping